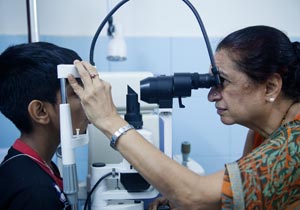 Well-equipped department of Ophthalmology was stared at the institution on 18th December 2017.
Evaluation and management facilities for all ocular diseases like refractive errors, anterior and posterior segment diseases, equivalent to a secondary care centre including the surgical management are made available.
Following are the surgeries that can be conducted at the Centre.
Cataract surgery including phaco emulsification a modern stitch less procedure.
Glaucoma surgery
Sac surgery
Squint surgery
Lid surgery and other minor procedures
Dr. Lavanya G Rao former Head of the department of Ophthalmology KMC, Manipal has joined the institution as consultant Ophthalmologist after serving there for 18 years. She has done MBBS and Diploma in Ophthalmology from KMC, Manipal, served in the Army medical corps of Indian Army, done MS in Ophthalmology from Army research & referral Institution Delhi University. She is a comprehensive Ophthalmologist and has expertise in phacoemulsification, squint and glaucoma management.
She has published many articles in National & international Ophthalmic journals & has presented many papers in state, National and International Ophthalmic forum.
The institution aims at providing eye care facilities to the patients in and around the institution at affordable cost.